Quantum Engineering and Technology
Learn the basics of quantum computing in an accelerated format with UChicago's course in Quantum Engineering and Technology. Space is limited. Save your seat today.
Customize for Organizations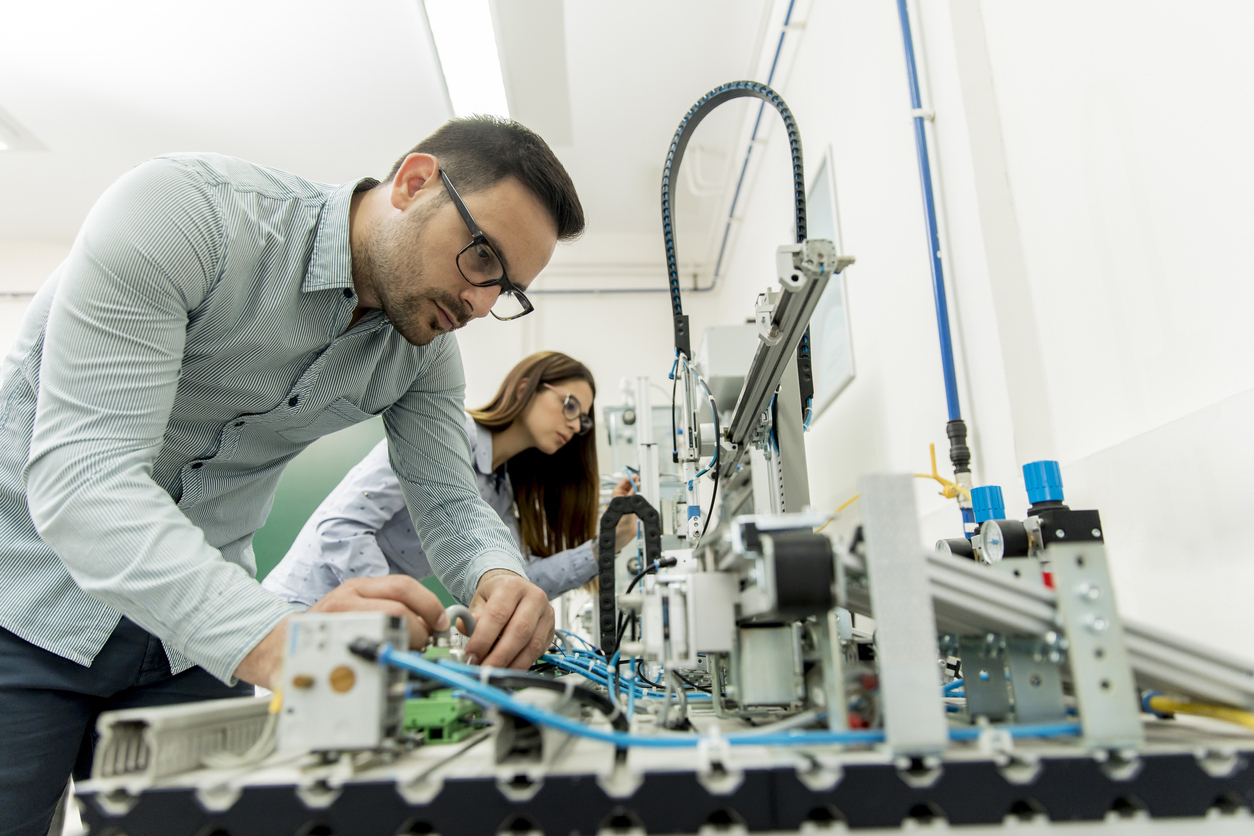 At a Glance
Enrollment

Open Enrollment

Duration

4 days
Format

In-person

Investment
Upcoming Dates
Quantum engineering is moving forward. Are you?
Quantum technologies in engineering, physics, and computing are at a unique moment in their development. Trained professionals are needed to help deploy technologies, test quantum theories, and learn modern tools to advance science. Push your career further and discover the possibilities that lie within this exciting field.
Take your career into the quantum-sphere
Our executive-style Quantum Engineering and Technology course is designed to equip seasoned professionals with an understanding of the foundational concepts, techniques, and applications of quantum information science. Explore how these ideas and modalities will have near and long-term impacts on a broad set of industries, transforming them at rapid speeds. This four-day in-person course will introduce you to relevant fundamentals of quantum engineering and associated quantum technologies, provide interactions with leaders in the field, demonstrations, and networking activities. Bring science—and your career into the future.
Designed For
Designed for electrical and other engineers, materials scientists, and physicists with ten or more years of professional experience and backgrounds in classical physics and engineering, from the materials and communications engineering R and D and other industries.
In-person Quantum Engineering course structure
Learning Objectives
Through a four-day intensive program, professionals will learn the relevant fundamentals of quantum engineering and associated quantum technologies. Upon completion of this course, participants will be able to:
Obtain a working understanding of the basic principles of quantum mechanics that are relevant to quantum technologies
Master a range of quantum technologies, including quantum computing, communication, and sensing; explore how these ideas and modalities will impact a broad set of industries both in the near and long term
Learn how quantum computing can be leveraged to address a range of practical computational problems; develop an appreciation for the prospects and challenges for devising new applications
Develop a detailed understanding of state-of-the-art quantum sensing techniques, their potential for future development, and their application to wide range of fields, including materials and device characterization
Explore quantum technology's impact on secure communication and cryptography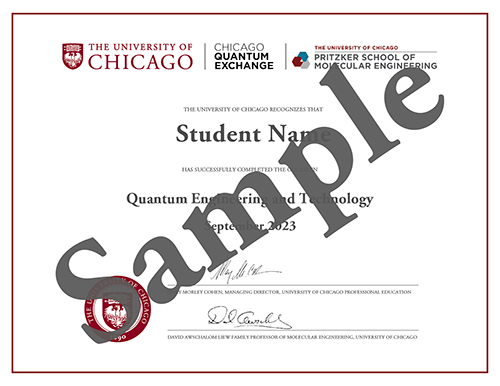 Earn a credential in Quantum Technology
After successful completion of this course, participants will receive a credential certified by the University of Chicago.
Covering quantum mechanics, computation, and information, this quantum course aims to provide a comprehensive understanding of the subject while sparking curiosity in its practical applications. The course will include lectures, hands-on laboratory sessions, and group discussions. Classes are scheduled to take place between September 11 and 14th, from 9 a.m. to 4 p.m. CST daily.
In the program's first sessions, faculty leads David Awschalom, Shuolong Yang, and others will provide introductions to quantum mechanics, its applications, and platforms and materials. 
Learning objectives
Grasp the fundamentals of quantum mechanics, including what defines a quantum state and how to measure it, Bell's inequality, entanglement, superposition, and distributed entanglement.
Develop an introductory understanding of main applications of quantum information science – quantum communications, sensing, and computing.
Have an appreciation for the current QIS platforms, including solid state and other qubit type.
Understand recent advances in materials, their growth and characterizations, and material challenges in quantum information science.
You will next dive into quantum communications with two sessions from faculty leads Liang Jiang and Tian Zong. The program's first demonstration will be remote quantum entanglement.
Learning objectives
Understand the applications of quantum communication and cryptography.
Have an appreciation for the principles and applications of quantum key distributions (QKD).
Grasp the concept of entanglement and applications of quantum teleportation and super-dense coding.
Understand the concept of and need for the quantum repeaters and other technological hurdles in the development of quantum networks.
Have an appreciation for additional engineering and physics issues of quantum communication, including materials and devices, entanglement sources and their engineering concerns, and quantum photonics.
State-of-the-art quantum communications and future perspectives.
You will then spend a day in quantum sensing and metrology with a demonstration of NV center control from faculty leads Alex High and Peter Maurer.
Learning objectives
Understand the advantages of QIS on sensing and metrology and the fundamental limits associated with quantum measurements.
Have an appreciation for the quantum states that can be leveraged in quantum sensing and metrology.
Understand the current state-of-the-art in quantum sensing technologies.
Have an understanding of key use cases and future application for quantum sensing and metrology, including biological sensors, atomic clocks, and solid state systems.
Lead by faculty members David Schuster and Hannes Bernien, the program will conclude with fundamentals of quantum computing and a coding demonstration on a quantum computer.
Learning objectives
Understand the fundamentals of quantum computing.
Have an appreciation for the challenges in scaling up quantum systems for different platforms/qubit types.
Have an understanding of key concepts in quantum computing, such as quantum measurement superposition and entanglement, gates, and error correction.
Grasp software concepts and algorithm use cases such as Grover's algorithm, those for post-quantum encryption (PCQ), and in quantum chemistry, such as VQE and DFT.
The University of Chicago and the Chicago Quantum Exchange are committed to providing the highest quality learning experience for participants of this program. Therefore, registrants must have more than ten years of professional experience, and a master's degree or higher is recommended to participate. All submitted registrations will be prequalified before being allowed to take this course.
*The University of Chicago reserves the right to remove and refund registrants that do not meet the educational and professional requirements necessary to participate in this course.
Enrich your career with quantum
Few professionals can say their work transforms how people live, work, and play. Life-changing work that impacts virtually every area of our lives is within the quantum science career path. Quantum engineering has the power to transform cybersecurity, materials development, computing, and other research areas, and companies in the communications, electronics, optics, and materials industries are examining how to quickly and effectively build a quantum-ready workforce.
Gain powerful skills with the leader in quantum—UChicago
In 1900, physicist Max Planck coined the term 'quanta.' In 2021, UChicago researchers sent, for the first time, entangled qubit states through a communication cable linking one quantum network node to a second node. In 2023, UChicago partnered with the University of Tokyo, IBM, and Google to further quantum research, develop the quantum workforce, and to work toward the delivery of a 100,000-qubit supercomputer system by 2033. We are taking quantum into the future, and we're inviting you to join us.
Pursuing a career in this area has immense benefits, some of which include:
Cutting-edge research opportunities: Quantum science opens the doors to countless research opportunities in areas like quantum computing, quantum cryptography, and quantum materials. As an expert in this field, you will have the chance to be at the forefront of scientific breakthroughs and discoveries.
High demand for skilled professionals: As quantum technologies continue to advance, there is a growing need for trained professionals who understand the intricacies of this complex field. Pursuing a career in quantum science can lead to many lucrative job opportunities.
Interdisciplinary knowledge: Quantum science is an inherently interdisciplinary field, with experts required to have a deep understanding of physics, mathematics, computer science, and more. This diverse skill set will prove valuable in any industry, and will help transform the future of Quantum Technologies.
According to the QED-C, the global quantum computing market has an anticipated growth of 27% between 2020 and 2024.
Our team is ready to discuss the course and answer your questions regarding our registration process. You may request more information about the course in quantum science by filling out the request for information form or by booking an appointment with an enrollment advisor. 
Group rates now available
Chicago Quantum Exchange (CQE) member and partner institution participants receive a 10% tuition reduction. CQE member and partner institutions are eligible for a 20% tuition reduction on groups of three or more. All other organizations are eligible for a 10% tuition reduction on groups of three or more. To enroll a group, please contact Alex Sainvilier.