Paul Maripadavil comes from a family of nurses. After earning an undergraduate degree in molecular and cellular biology, it felt natural for him to get a job as a rehabilitation technician in an outpatient clinic. But a few years after embarking on a career in health services, he started wondering if he would be happier doing something else. 
 
Maripadavil's thoughts turned to computers. "I've always been interested in the software side of things," he says. A self-taught coder, he found himself acting as the unofficial IT guy at his clinic. "Someone would have a frustrating computer issue and I'd be able to figure it out. That feeling—when you finally arrive at the solution to a programming problem—that's really one of the most rewarding feelings for me."
Like many career-switchers, Maripadavil decided to enroll in a graduate program to jumpstart the next phase of his professional life, so he looked for one that would combine his love of programming with his training in biology and clinical experience. It was then he discovered the field of biomedical informatics and the Master of Science in Biomedical Informatics (MScBMI) at the University of Chicago. 
"The name recognition of the University of Chicago was a big part," Maripadavil says of his decision to apply to the program. "Just the fact that so many Nobel Laureates have been with the University made me excited about going there."
But there were more practical considerations, too. "Living in the south suburbs and working full-time meant that the evening classes offered by the program were real pluses when it came to making the program feasible for me," he says.
As classes began, Maripadavil immediately felt validated in his decision to enter the field. A course on the government policies and initiatives shaping the healthcare landscape particularly enthralled him.
"What's exciting about the BMI program is how the coursework gives you a peek at the future of medicine and healthcare," he says. "We're beginning to see the emergence of a world where medical decisions will be based more and more on evidence taken from data. Working to solve the problems around data standards and making it possible for precision medicine to exist doesn't only make me hopeful for the future of medicine, it makes me hopeful for my own employment future as well, since solving these sorts of challenges brings me a tremendous satisfaction."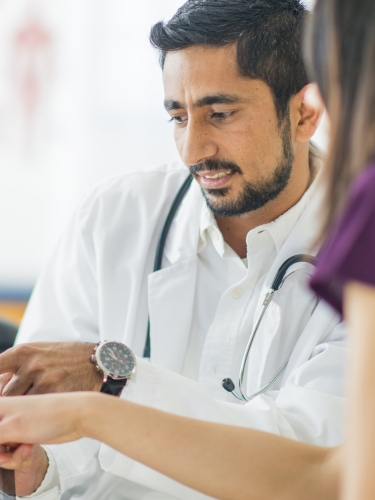 Ready to Drive Health Care Innovation ?
Learn how to apply technical and analytical skills using biomedical data that will help improve patient care in our communities. 
Learn More