Three students use their Capstone Project to leverage academic research and help develop guidelines for the City of Chicago's use of drones in emergency management situations.
When Maria Avgerinos, Bill Fancher, and Terry Sheppard first got together to discuss potential directions to pursue for their Master of Science in Threat and Response Management (MScTRM) capstone project, they were easily able to settle on one thing: It would be practical. 
Far from wanting to move away from the intellectually stimulating material covered during their classes in the program, they saw in their Capstone Project the unique challenge of taking everything they had learned and applying it to something meaningful in the world.
"The first thing we did was approach the City of Chicago," says Terry, a battalion chief at the Chicago Fire Department. "Through my role at the Chicago Fire Department, I knew about the city's research and development department. That's how we learned about the sUAS [small unmanned aircraft system] project. Since it related directly to the Chicago Fire Department, it seemed like the sUAS group would be a good one to look into."
We had an opportunity to reach out and work with the community and help out by finding a solution. That's really what made it so satisfying.

Terry Sheppard, MScTRM '19
The Challenges and Advantages of Drone Policy
Comprised of members from the Fire Department, Police Department, and the Office of Emergency Management and Communications, the sUAS working group had faced considerable challenges since its inception in 2012. Strapped by limited funding, they also had to overcome the complicated matter of coordinating three large public safety organizations. 
With sUAS technologies having advanced in recent years sufficiently to assist in emergency response practices, the MScTRM team hoped to provide the group with research and analysis aimed at identifying the best practices for establishing and operationalizing an sUAS program in Chicago.
"The absence of a sUAS program is largely due to a culmination of factors, such as competing operational commitments, financial constraints, as well as a lack of human capital," says Maria, an employee at the Wisconsin Department of Justice. "In addition, changing sUAS regulations present a significant challenge to City of Chicago public safety departments, as the regulations and authorities governing public safety usage continue to evolve."
As three University of Chicago researchers, the MScTRM capstone team offered their assistance in exchange for a seat at the table during the sUAS group's monthly meetings, which was an offer the group gladly took them up on. Alongside conducting academic research focused on establishing a sUAS program in an urban environment, one of the first steps the group took was to reach out to fire departments around the country that had more developed programs in place.
Students Develop Guidelines for Drone Use in Emergency Management
"Our initial approach was to conduct a comparative review of other city sUAS programs," says Bill, a Master Chief Petty Officer in the Navy. "We contacted the fire departments in Austin, New York, Los Angeles County, and Naperville, the latter for local insight. Leadership from both Austin and New York's sUAS programs were extremely helpful in providing our team guidance. The insight they provided allowed us to leverage years of experience in getting these types of programs off the ground."
After performing a competitive analysis of peer city sUAS programs, they took what they were learning and put together a policy document for the working group focusing on best practices. They researched Federal Aviation Administration guidelines for sUAS and reviewed applicable state and federal regulations concerning matters of individual privacy. Using what they had learned during the communications course in the master's in emergency management program, they also developed a message map that included a strategy the sUAS group could use to convey a unified message. 
"We wanted to present the group with some deliverables," Terry says. "Our primary recommendation was that they have someone dedicated to the program. That's a person who can consolidate and coordinate efforts across departments and focus on getting the resources together to maintain and lead a sUAS program."
In concluding, the team notes how throughout the project they managed to stay true to their original intent, which was to accomplish a practical goal while applying some of the intellectual tools they had learned in the program. That they were able to build a relationship and help the City of Chicago only added to the sense of accomplishment.
"When we were making our presentation, we displayed the emblems of the Chicago Fire Department, Chicago Police Department, and the Office of Emergency Management and Communications—the organizations involved in the sUAS program," Terry says. "We had an opportunity to reach out and work with the community and help out by finding a solution. That's really what made it so satisfying."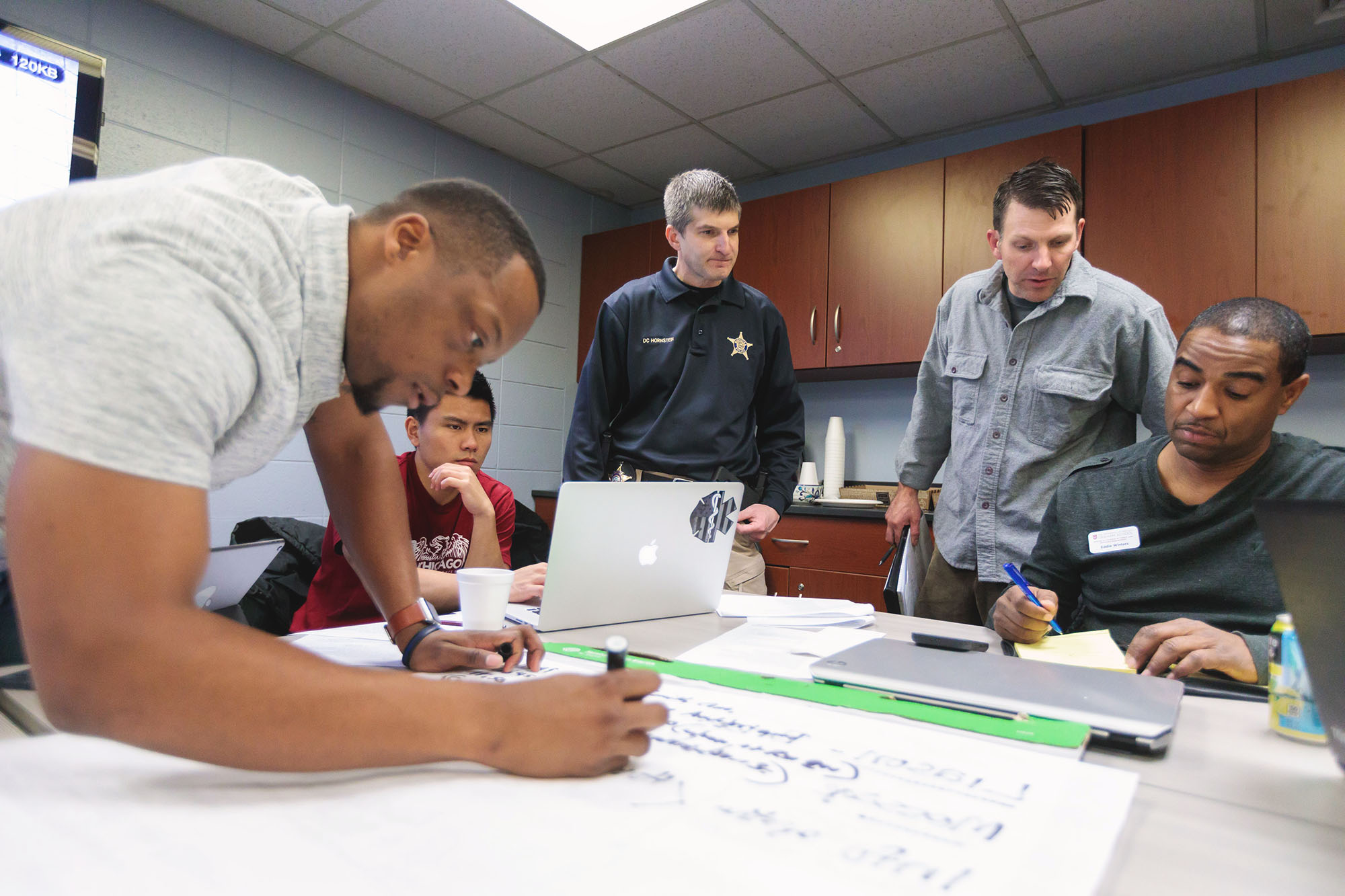 Leading-Edge Learning For Ambitious Professionals
Gain a deep understanding of the issues and challenges of disaster response and recovery with a Masters in Emergency Management at UChicago.
Apply Today