The most significant national security events of the past several decades—9/11, the Boston Marathon bombing, the barrage of recent cyberattacks—caused surprising, immeasurable changes across all facets of society. The measures the US government took to respond to these events were shaped by factors equally complex, the products of a byzantine landscape of rules, procedures, and deeply felt emotions.  
"In real life, there are always extra circumstances—aggravating circumstances—that put extra pressure on you and make things more difficult," says William Evanina, former director of the United States National Counterintelligence and Security Center (NCSC) and instructor in the Master of Science in Threat and Response Management at the University of Chicago. 
In "Bureaucracy, Politics, and Ethics in the Digital Age," Evanina puts these challenging moments into historical perspective using his two decades of experience in the highest levels of national security to introduce students to the mechanics of U.S. bureaucracy and the struggles emergency management professionals face before history gets written. With analytic frameworks and case studies—as well as an array of guest speakers from the upper echelons of government—he teaches students to navigate ethics, checks and balances, and conflicting stakeholder agendas so that they can better shape bureaucratic outcomes. 
Whether you're a teacher in the classroom, an NGO worker in Africa, or a police officer in Chicago, everything you're learning when it comes to protecting our nation relates to the challenges you face every day.

William Evanina, MScTRM Instructor
Crises in theory, and in hindsight
Classes like these drew Evanina to the MScTRM, a program designed to prepare students for leadership positions and develop innovative emergency management solutions. Following his retirement in January 2021 as NCSC director, he started the Evanina Group and began guest lecturing at and advising academic institutions on mitigating potential threats from foreign actors. 
When he decided to join an academic program, he chose the MScTRM for its mission of merging real-life crisis scenarios with leading academic research. "I think it's absolutely important to have the academic and the practitioner parts complement each other, and the program does a really good job of that," he says. 
Evanina, who was working for the Federal Bureau of Investigation in New Jersey on 9/11, introduces students to the full spectrum of these issues with a discussion of how the government reacted to the events of that day. The national response to the attacks on the World Trade Center, he says, encapsulates the themes of the course: "the bureaucracy of the government and the inability to get things done in the right time because you have so many different agencies working together, and the ethics of doing enhanced interrogation techniques. It's really easy to look back twenty years later and say whether these techniques were ethical, so I try to put students in that time and space."
Shaping more effective emergency response leaders
For Evanina, situating students in past events is crucial to another key part of the course: relating lessons on bureaucracy, politics, and ethics to their diverse professional lives. 
"I always try to drive students to think a little harder about the issues and see how they're relevant to their own lives," he says. Sometimes this relevance involves the societal shifts that ripple out from national security events.
"On 9/11, when I was in New Jersey for Flight 93, even as an FBI agent I didn't have a cellphone—nobody had cell phones," he explains. "We talk about what happened over the past twenty years, surveillance, how a mobile phone today is a supercomputer, and how every single app that you download is tracking where you go every day.
"Students are awesome at driving discussions on both sides of the surveillance issue: the need for privacy and the need for security. My goal is to make students aware of the idea of unconscious bias, what it looks like, how it manifests itself in their daily lives, and how they have to work hard to find that."
In the end, Evanina hopes to shape better emergency response workers, no matter their profession—an aim shared by the government and industry leaders who teach in the MScTRM. 
"Whether you're a teacher in the classroom, an NGO worker in Africa, or a police officer in Chicago, everything you're learning when it comes to protecting our nation relates to the challenges you face every day."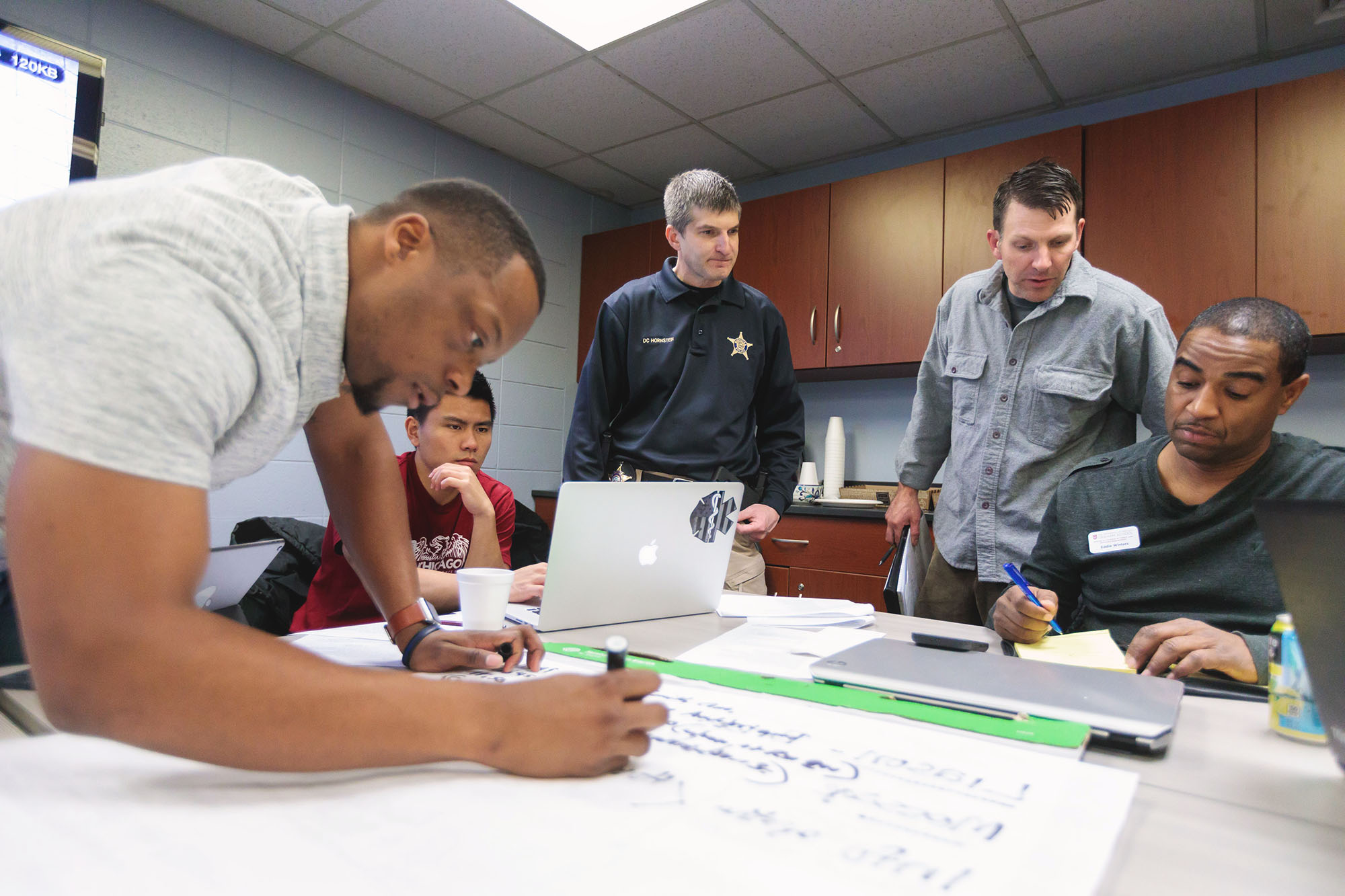 Leading-Edge Learning For Ambitious Professionals
Gain a deep understanding of the issues and challenges of disaster response and recovery with a Masters in Emergency Management at UChicago.
Apply Today