About Madonna Walsh
Position

Global Operations Communications, HERE Technologies

Program
While the speed and connectedness of the contemporary world mean that news of emergencies travels faster and with greater potential for embellishment than ever before, the infrastructure holding those systems together has never been more precarious and susceptible to disruption, both from natural causes and human ones. 
More than ever, governments and corporations require skilled communicators to react quickly and with clarity to unanticipated events as they convey the nature and significance of the emergency to stakeholders and the general public.
Career Experience in Crisis Communications
Madonna Walsh, a first-year student in the Master of Science in Threat and Response Management (MScTRM) program who specializes in crisis communications, started her career in public relations and got her first exposure to crisis communications while working for Boeing as a senior communications manager.
If Boeing was her introduction to crisis communications, Walsh's stint in a similar role at Qatar Airways made her Boeing experience look scant by comparison. With Qatar, she says, there were crises every week, everything from terminals burning down to terrorist threats and planes being shot at. 
Having since transferred her real-world experiences and applied them to information technology, she presently works at an information technology company in Chicago where she leads communications for global operations working alongside the security, privacy, and continuity team. 
"Right now we're rolling out active shooter scenarios for our offices," she says. "Threats come in all different types. In Chicago, it's usually weather-related, but in a city like Berlin, where our company also has a huge presence, there have been several terrorist attacks. The goal of crisis communications involves knowing the local context and talking to people in a way that is going to make them listen."
I wanted to build on my specialty in crisis communication and try to connect it with areas like business continuity and threat management.

Madonna Walsh, MScTRM '20
Building on Her Career with Emergency Management Degree
After over twenty years of global communications experience, then, Walsh began to wonder if she had done all she could on the path she had been on. If not an entirely new career, she thought, perhaps there was some way she could extend on her experience into a new area. 
Her expectations for the program have been confirmed thus far, and she has felt engaged and refreshed by her experiences with the other members of her cohort. What's more, despite exposure to many of the topics before, she stresses that her coursework in the MScTRM program has allowed her to understand the deeper principles behind her everyday work in emergency management.
"Some areas are very new to me as well," she adds. "Take the legal class, for example. It's probably been my favorite so far but I felt a little out of my depth at first. It challenged me to learn how to apply the legal argument to my communications background. Since I'm more the persuasive, emotional type, it was very valuable to develop these legal tools as a way to get people on board where legal ramifications are in play."
Looking Forward
As for what direction her career might take upon graduating, she admits she is not sure about that yet. She knows that it will in some way involve combining her corporate experience with her new knowledge of emergency management. So long as she continues to learn about so many new areas, she sees no reason to settle.
"Several of my papers have focused on the MRSA Super Bug and the fact that we don't have a policy for preventing it in the USA," she says. "We don't need 20,000 deaths in the US when the UK has zero. In fact, I generally find myself engaging more with policy- and theory-type questions. One thing I'm sure of, however," she adds, "is that being a student in the program has convinced me that everyone should wait to go to college. The difference between me in undergrad and me in grad school is like night and day."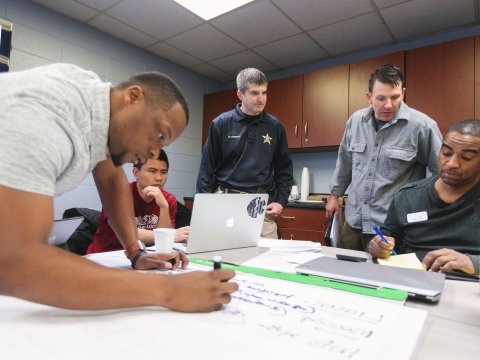 Leading-Edge Learning For Ambitious Professionals
Gain a deep understanding of the issues and challenges of disaster response and recovery with a master's in emergency management degree at UChicago.
Start My Application