Image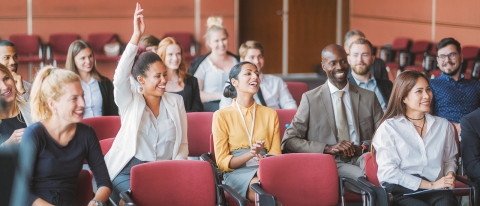 Breaking the Paradigm of the Three-Stage Life
In the fourth Industrial Revolution, continuing education is a requirement, not an added value
Written by Claire Zulkey. 4-minute read
In Brief
Research shows training and developing workforce is a priority for Industry 4.0 companies.
A mindset of perpetual learning will be necessary for professional long-term success in years to come.
The fields of anaytics and data science, management and leadership, and healthcare, among others, will demand ongoing upskilling and reskilling.  
Professional students, particularly career switchers, require the ability to network and dialogue, and competitive continuous education programs must find a way to make that possible regardless of the classroom format.
In the past, a four-year college degree was enough to prepare a professional for a thirty-year career. That model is outdated, says Marco Serrato, Associate Provost at the University of Chicago, who works with deans and faculty to expand the range of professional development programs at the University. "Whatever knowledge and skills you are acquiring now, you have to learn other things in the near future just to remain competitive."
Industry 4.0 statistics confirm this trend. According to the Deloitte Insights paper "The Fourth Industrial Revolution," nearly 75% of companies surveyed that marry physical assets and advanced digital technologies plan to make training and developing workforce their top priority in the years to come. "Given the rapid pace of Industry 4.0, hiring for 'mindset' rather than skills may be the key to longer-term talent success, given those people with open and flexible mindsets can be trained on an ongoing basis to adapt to the organization's changing needs," the authors write.
Serrato says that to remain competitive, professional education institutions will need to identify the markets that will require the most upskilling; provide programming for career starters, career switchers, executive upskillers, and corporations alike; and offer a variety of programs, degrees, and certificates.
In some ways, the world of virtual professional education has been ahead of the curve. "The pandemic did not change the future of professional development; the pandemic just changed the pace of change towards that new normal," says Serrato.
However, what is often lost in the post-pandemic world is the networking and dialogue that is especially crucial to career starters and switchers looking for professional and moral support. The University of Chicago's educational approach has maintained and even bolstered its focus on dialogue, debate, and interaction in the virtual world.
Image

"We need to break the paradigm of a three-stage life. You study, you work, you retire. That is not the present and even less the future of moving forward."
Rather than passively taking in large courses like MOOCs, students engage with live synchronized sessions, Zoom breakout rooms, and interactions and projects on Canvas, Slack, and other platforms and technologies, which will enrich and complement both online and in-person programs in the years to come. 
Engaging with other professional students, virtually or otherwise, is not only part of the University of Chicago's unique educational approach but an essential component of lifelong learning, says Serrato. "It's not just what you learn from the instructor or the content, but how you interact with other professionals in that field. This networking piece is crucial."
As companies prioritize upskilling, reskilling, and pivoting, degrees and certificates in fast-changing fields like analytics and data science, management and leadership, and healthcare will be most in-demand in the future, says Serrato. UChicago Professional Education (UCPE) programming embeds the interactive, dialoguing format to allow students to gain insights from other people and industries. In the eight-week course Artificial Intelligence and Data Science for Leaders course, for instance, students learn about current trends in data science and machine learning but also discuss specific cases, provide context on how they relate to their own experiences, learn how to implement data-driven decision-making in their own organizations more effectively, and exchange some ideas on what worked and what could be improved.
To keep up with Industry 4.0, Serrato says, "We need to break the paradigm of a three-stage life. You study, you work, you retire. That is not the present and even less the future of moving forward. You will need to be learning in a continuous manner throughout your life."
Professional education's digitalization will challenge academic institutions without the means or vision to develop talent to stay up to date with technology and Industry 4.0 trends, says Serrato. "This will present challenges for universities where their main competitive advantage was their geographical location." However, it presents opportunities for institutions like the University of Chicago to broaden its range of students in terms of age, industry, and geography—learners from over twenty-five countries have enrolled in UChicago Professional Education programming just over the last six months. "Virtual learning is breaking geographical barriers for better or worse," says Serrato, "but I think it's for the better when we think about the audiences that we serve."