Image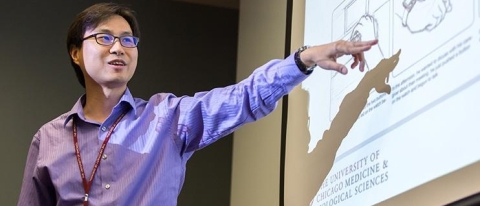 Driving Innovation in Healthcare Informatics
Why entrepreneurship will continue to play a central role in the field's growth.
Leadership and Strategy
Science in Practice
Technology and Innovation
In Brief
A gap exists today between existing health IT solutions and doctors' ability to apply them in hospitals.
Leveraging data to more seamlessly integrate the latest technologies with hospital workflows, the discipline of healthcare informatics is able to bridge this gap.
Dr. Cheng-Kai Kao's courses on healthcare innovation give students the tools to develop innovative solutions for their own workplaces.
An MScBMI instructor, who is also an academic hospitalist, discusses the range of innovative informatics tools currently being developed and why the City of Chicago is ready to become a dynamic health information technology ecosystem.
Image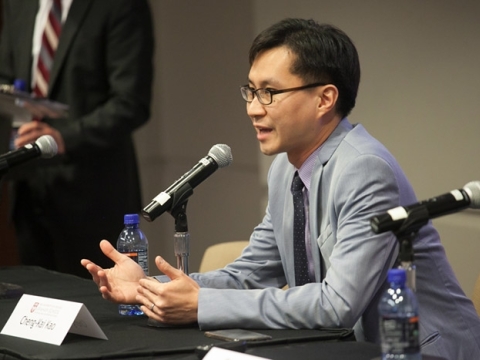 Dr. Cheng-Kai Kao
As an academic hospitalist, Dr. Cheng-Kai Kao was excited to arrive at the University of Chicago in 2011 just as the area of informatics was beginning to receive more attention at the hospital. Already having an interest in the areas of informatics and data analytics, he promptly became board certified in clinical informatics and agreed to serve as the medical director of informatics at UChicago Medicine.
"Being a hospitalist, I really enjoy my time seeing patients," says Dr. Kao, who teaches two courses in the Master of Science in Biomedical Informatics (MScBMI) program and is also an assistant professor at UChicago Medicine. "But the amount of work at the hospital today and the speed with which any number of complex processes need to take place means steps will inevitably be missed. This is nobody's fault and everyone's working as hard as they can. Nevertheless, I can clearly see the gap between what could happen given the information and knowledge we currently have and what does."
IT Tools for Physicians
The discipline of informatics and the various tools developed within it strive to close that gap. As associate chief medical information officer, he leads multiple initiatives that leverage information technology to provide decision support for the frontline clinicians with the goal of ensuring patient safety, optimizing clinical workflow, and enhancing the electronic health record system, while all along making innovations that improve care quality and patient experience. 
"It's a really exciting moment and I'm very happy to be taking part in it," he says. "As more and more information gets collected, a broader array of informatics tools is becoming developed. Very soon artificial intelligence will start to play a major role for purposes like predictive modeling, image recognition, diagnostics decisions, and more."
Noting that informatics tools are not intended to replace physicians but only to amend this gap within practice, Dr. Kao compares their arrival to the effect Google Maps has had on directions.
"These tools leverage the vast amount of information that's collected to make decisions at a rate no human possibly can," he says. "The data is already being collected and it's just a matter of putting what we already have to use advantageously."
"As more and more information gets collected, a broader array of informatics tools is becoming developed. Very soon artificial intelligence will start to play a major role for purposes like predictive modeling, image recognition, diagnostics decisions, and more."
Broader Potential for Informatics Innovation
In his MScBMI class Decision Support Systems and Health Care, he asks his students to consider their own work environment as a place where such tools might have applications to fill gaps. Thus, in addition to giving students an overview of the types of computer-assisted management decision systems used in health organizations, he helps students see the broader potential for informatics innovation. 
"More and more, these tools aren't just being used in hospitals," he says. "They have applications in real life too. Whether it's a matter of standardizing a complex protocol or building in alerts as a way to avoid potential mistakes, the information we have available to us today is capable of reducing error and saving time across many data-generating environments. My class is designed so that students can begin to recognize openings in their own work lives for informatics solutions."
Chicago as Health IT Ecosystem
Spurring the idea for his second MScBMI class Health Care and Entrepreneurship, Dr. Kao recalls taking part in a medical innovation conference several years ago. Present as the associate chief medical information officer at UChicago Medicine, he found himself surrounded by professionals representing an array of different industries and professions whom he'd likely never have encountered at the hospital, despite all of them being connected to the health care area.
"Sitting there, I realized there was no reason why Chicago couldn't become a technological innovation center similar to cities like San Francisco and Boston," he says. "We have excellent business schools, engineering schools, law schools, and medical schools, so we have all the components you need to establish a health information technology ecosystem. It was just a matter of bringing people together and letting them see what others were doing."
Carving Out Your Own Innovative Solutions
A key missing component to the success of such a possibility, he realized, was a primer course in which individuals with innovative health information technology ideas and solutions could learn how to plug themselves into that ecosystem. In the class, Dr. Kao shares with students the strategic steps that take you from developing an idea all the way to presenting it before a room of potential investors. Students work on either a quality improvement project or a business proposal and conclude with a final presentation that they're later encouraged to submit, if applicable, to the various entrepreneurial challenges at UChicago.
"Several years ago, Chicago's health information technology ecosystem was still very siloed and it was hard to navigate from one area to another," he says. "A pipeline was needed connecting the various silos so that people could begin to learn about all that's happening as a way to start working collaboratively. My course is just the beginning piece to that pipeline."
"That's really what I want students to take from my classes," he adds. "I want them to develop the basic skills that will allow them to return to their workplaces and carve out on their own innovative solutions in the informatics and health information technology domains."