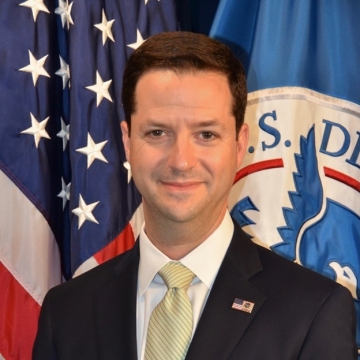 Jeremy Greenberg, MA
Director for the Response Operations Division, FEMA
Mr. Jeremy Greenberg currently serves as the Director for the Response Operations Division at the Federal Emergency Management Agency (FEMA). In this capacity he is responsible for overseeing FEMA's numerous capabilities that identify, alert, and stabilize threats and hazards. This includes the National Watch Center, FEMA Operations Center, National Response Coordination Center, Operations Capabilities, Operation Integration and the National Urban Search and Rescue program.
Additionally, Mr. Greenberg functions as the Chief of the National Response Coordination Staff in the National Response Coordination Center and is the Deputy Team Leader for the Domestic Emergency Support Team (DEST), which provides assistance to the F.B.I. for incidents involving weapons of mass destruction.
Previously Mr. Greenberg served as the Acting Deputy Director, Office of External Affairs, and Director, Office of Policy and Performance within FEMA's Response Directorate.
Before joining FEMA, Mr. Greenberg served as the Manager for the Department of Transportation's National Response Program. In this capacity he was responsible for coordinating DOT's Emergency Support Functions and the Regional Emergency Transportation Program. Prior leading the National Response Program Mr. Greenberg was the Deputy Manager for the U.S. Department of Transportation's Crisis Management Center.
Additionally, Mr. Greenberg served at the U.S. Department of Homeland Security, where he was the Operations Branch Chief in the National Exercise Division. He was responsible for overseeing the design, development, and conduct of exercises at the Federal, State and local levels including several National Level and International Exercises. Before joining the U.S. Department of Homeland Security, Mr. Greenberg served as a Legislative Assistant in the U.S. House of Representatives and as a Program Assistant for the U.S. Department of Justice.
Mr. Greenberg holds a BA from American University, an MA from the College of International Security Affairs at The National Defense University and is a graduate of both the National Emergency Management Executive Academy and Harvard's National Preparedness Leadership Initiative. Mr. Greenberg spent over 20 years as a volunteer firefighter, emergency medical technician, and instructor. He resides in Vienna, VA with his wife, son, and dog.