The Problem
In the wake of the attacks on the World Trade Center, emergency management professionals raced to find better ways to share information. The public sector met the challenge by launching fusion centers, state-operated hubs that gather, share, and analyze threats with the federal government and private entities. The private sector adopted the concept and instituted global operations centers of their own. 
"Fusion centers are all about creating an information-sharing environment in which nobody wants to share information," Chris Trzeciak says. "There are a lot of constructs and frameworks to share information, but that's where the challenge is. The public sector has confidentiality concerns and operates on a need-to-know basis, while the private sector wants to avoid risks and lawsuits and investigations. It is way more complex than you would think."
As outlined in their paper, "Public-Private Intelligence Coordination," this complexity results in delays of both information-sharing and crisis response. "Our Capstone project started out with a focus on how fusion centers operate, but as we delved into it, we realized that there is more to the equation," Trzeciak says. "The bigger question involves the overarching public-private relationship—how does this information flow?"
There are a lot of threats, but that kind of information does not necessarily get shared until it is already public knowledge, and critical infrastructure providers do not want to find out about a cyber threat from CNN.

Michael Hink, MScTRM '21
The Research
The pair set about interviewing emergency response professionals from both sides of the aisle to uncover the fault lines between them. Michael Hink, a police officer with the Chicago Police Department, started with his colleagues. 
"I was able to use my professional network to get an interview with an individual at a local fusion center," he says. "Haggerty, our corporate partner, helped by putting us in touch with individuals at other fusion centers. I also cold emailed a whole bunch of fusion centers telling them I was from the University Chicago doing research, but those did not pan out too well—most people were not willing to just do an interview with somebody whom they did not know. Fusion centers are a black box that will only communicate with people with whom they have prior relationships."
Trzeciak, who works for Nuveen Investments as Vice President of Business Continuity, had a bit more luck when he turned to his own professional contacts. 
"I have worked in financial services for a long time, so I know a lot of people in that space. There's a professional organization I'm a part of in Chicago, the Business Resiliency Professionals Association, so I leveraged the heck out of it." 
In the end, their outreach to seventy-nine fusion centers yielded thirteen interviews.
The Results
Through these interviews, Hink and Trzeciak were able to explore the current information-sharing environment between the public and private sectors and identify best practices for improving it. Key among their findings was the necessity of strong relationships between public and private emergency response professionals. 
"I do not think we were tremendously surprised by that," Trzeciak says. "Emergency response is a niche field: people know what FEMA is, but there are not a ton of people that do this kind of work. I always knew that relationships mattered, but I was surprised at the extent to which they matter. 
"There is a huge difference between someone new entering this field and someone who has been here for a while—they know who to call and who is going to call them. [Emergency management professionals] share information selectively, which is surprising because some of it is really important and there are a lot of threats, but that kind of information does not necessarily get shared until it is already public knowledge, and critical infrastructure providers do not want to find out about a cyber threat from CNN."
Listen to Mike speak about the benefits of the MScTRM program and the networking opportunities it provides: 
The Program
Both Hink and Trzeciak credit the MScTRM program with strengthening their understanding of the emergency management space. 
"It broadened my perspective," Hink says. "I don't work at the Crime Prevention and Information Center, but doing this research opened my eyes to the ripple effects of decisions—if you shut down a street, an airline might not be able to operate their flight patterns, which messes up flights across the country and the world. In the public sector, you think first about security and immediate safety, not all the repercussions that your decisions can have. Throughout the program, classes show different cases that drive that point home. Our research is just one example."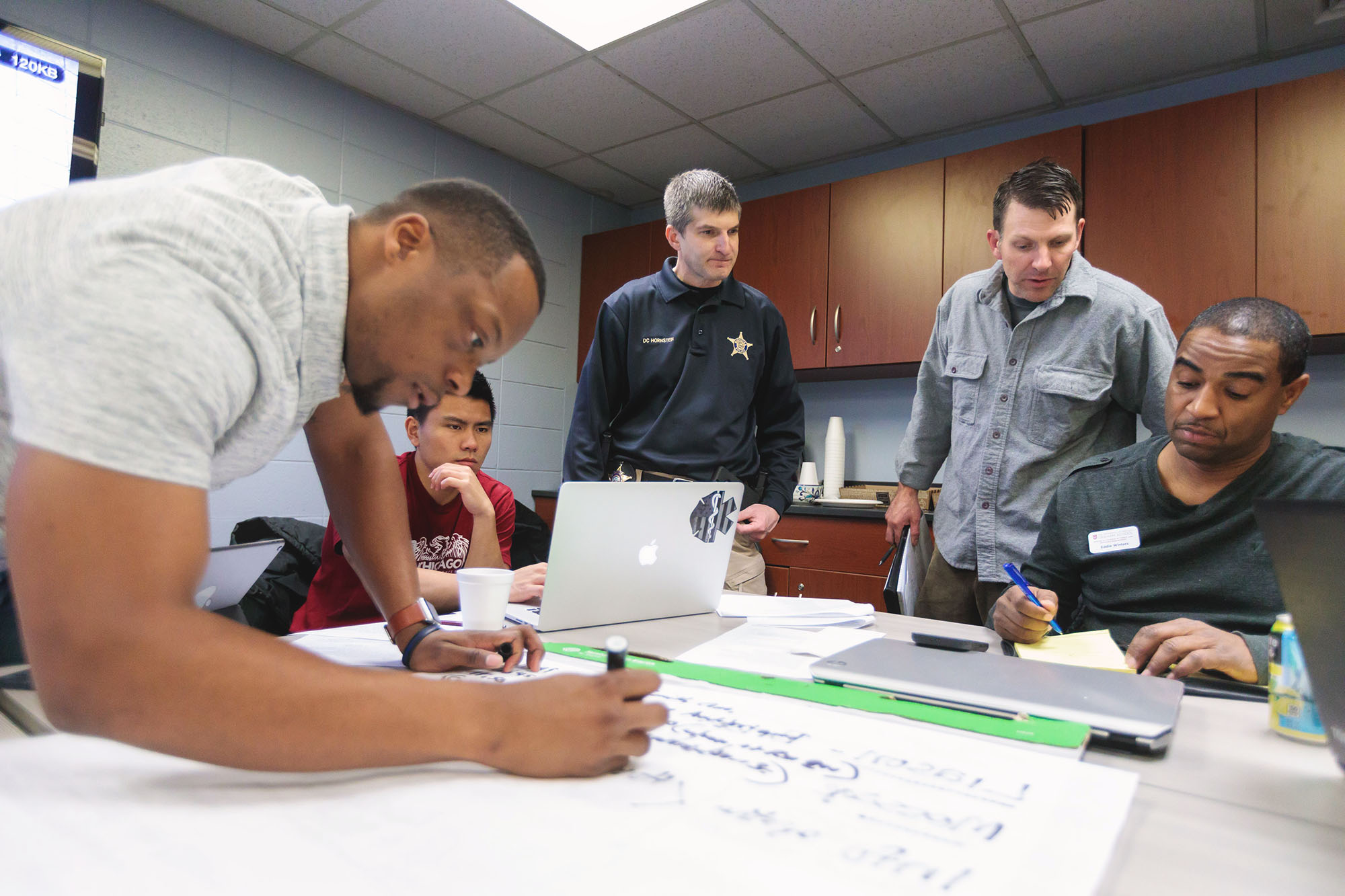 Leading-Edge Learning For Ambitious Professionals
Gain a deep understanding of the issues and challenges of disaster response and recovery with a Masters in Emergency Management at UChicago.
Apply Today