Application deadlines

| Round | Deadline |
| --- | --- |
| Round 1: Autumn 2022 | Jan. 18, 2022 |
| Round 2: Autumn 2022 | Mar. 15, 2022 |
| Round 3: Autumn 2022 | Jun. 01, 2022 |
*We will begin accepting applications for Autumn 2022 beginning in October 2021.
Admission occurs for a program start date in autumn. Preference will be given to applications received prior to the early decision deadline. International applicants must apply by the International Applicant deadline due to visa processing time. 
Please contact us if you have any questions about our program or the application process.
Start your online application to the Master of Science in Biomedical Informatics program and complete your application by the day of the application deadline in order to be considered for admission.
Admissions decisions for the Master of Science in Biomedical Informatics are not released on a rolling basis. Decisions are returned within the four weeks following the application deadline.
Meet Your Admissions Counselor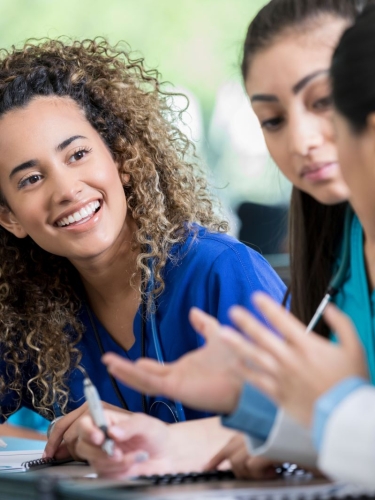 Your Admissions Advisor is Ready to Help You.
Contact Associate Director of Recruitment Angie Hoang today to schedule an appointment to review your profile and answer any outstanding questions you may have about the program.
Get in Touch
Unofficial electronic transcripts
Official course-by-course evaluation for any institution attended outside the United States
3 letters of recommendation
Candidate statement
Resume/CV
TOEFL/IELTS scores, if applicable
$75 application fee
Unofficial Electronic Transcripts
One transcript from each university (undergraduate and graduate) attended must be uploaded within the application. We accept unofficial transcripts for application evaluation. If you are offered admission, one official transcript for each university attended will be required prior to the first day of the term. An unofficial transcript for undergraduate coursework is still required even if you hold an advanced degree(s).
Applicants will be expected to have introductory level competency in:
Statistics: Can be fulfilled by a course such as Introduction to Statistics or Biostatistics
Health Sciences or Clinical Care: Can be fulfilled by a survey or overview course in health sciences or a clinical degree
You may fulfill these requirements through the Graham School or other university courses prior to matriculation. In your application, please be sure to indicate in your personal statement which courses in your transcript fulfill these requirements or how you plan to fulfill these requirements.
Unofficial transcripts should be emailed to: bmi-admissions@uchicago.edu
Official Course-by-Course Evaluation for International Students
If you graduated from or attended an international university or college for more than half of a completed degree, we require a course-by-course evaluation by an NACES Evaluator for each international institution to be submitted by the application deadline. A course-by-course evaluation must translate courses, degree, grades, and GPA to United States equivalencies.
All evaluations must be sent directly from the evaluator to one of the options below. Evaluation reports should be emailed to bmi-admissions@uchicago.edu or mailed to:
The University of Chicago Professional Education
Attention: MScBMI Admissions
455 N Cityfront Plaza Dr., Suite 950
Chicago, Illinois 60611
In order for this to be received by the application deadline listed above, we recommend you submit your transcript to be reviewed by a NACES evaluator no later than one month prior to the application deadline.
Letters of Recommendation
Your application must include three letters of recommendation from people who can assess your academic or professional qualifications.
You do not need to wait for all your letters to be received before you submit your application. As long as you have added your recommenders' names and email addresses, and they each submit their recommendation before our application deadline, their letters can arrive after you hit the submit button.
Recommended sources for letters of recommendation include:
Professors
Supervisors or Managers
Professional Mentors
We do not accept letters of recommendation from family members, friends, or peers.
Candidate Statement
Applicants are required to demonstrate the motivation, academic potential, and ability to undertake work at the University of Chicago by writing a candidate statement (double-spaced, not to exceed four pages) highlighting their qualifications and describing their interest in biomedical informatics.
Resume or CV
You will submit an up-to-date resume or CV as part of your complete application.
English Language Requirement
Applicants to the Master of Science in Biomedical Informatics program who do not meet the English Language Proficiency criteria must submit proof of English language proficiency. The MScBMI requires a minimum TOEFL 104 or IELTS 7. Only the TOEFL iBT or IELTS Academic tests are accepted as proof of proficiency. 
Application Process and Fees
You will be prompted to pay a $75 non-refundable fee once you have submitted your application. Please contact us with any questions regarding this fee.
After you have completed all parts of the online application and paid your $75 application fee, submit your application by the day of the application deadline in order to be considered for admission.