Hugo Tam did not want to spend the rest of his professional life surrounded by heavy machinery. 
He came to this realization a year out of college, after joining the management track at Archer-Daniels-Midland and becoming part of a team that oversaw the production of more than a million pounds of flour every week.
"Being on the floor wasn't for me, but I really enjoyed the leadership aspect of the job and data science tasks like working with Excel spreadsheets and optimizing key project metrics," Tam says. "Once I realized I liked working with data, I asked myself how I could bridge the gap from food science to data science."
That bridge turned out to be the Graduate Student-at-Large (GSAL) program which enables students to take for-credit graduate and undergraduate classes at the University of Chicago. Tam first applied directly to UChicago's top-tier Master of Science in Analytics (MScA) program, but lacked a strong enough background in math and computer programming. Through GSAL, Tam could strengthen his transcript and demonstrate the abilities he'd need to be accepted to MScA.
Without the support of GSAL and the connections I made while there, I would definitely not be in the position I am today.

Hugo Tam, GSAL Student Recipient
Customized Coursework
"Being able to customize my coursework exactly to my needs and having the flexibility to join the variety of classes I did was an exceptional opportunity," Tam says. Each quarter, GSAL students work one-on-one with Program Director Esther Pandian-Riske to select and register for the classes most relevant to their academic aims. With Pandian-Riske, Tam strategized the most effective way to leverage the GSAL program.
In addition to the math classes he needed, Tam was able to take MScA core requirements. Pandian-Riske also encouraged him to take classes in the geography department, knowing that demonstrating his ability to use analytic tools in a variety of contexts would be crucial for ensuring the success of his MScA application. 
"Esther gave me great advice and she worked closely and very carefully with me on a personal basis," Tam says. "It's really special that a program can expose you to different fields and departments, and to do it at one of the most prestigious universities in the world makes it even more incredible." By the time he was accepted into the MScA, Tam had already taken seven courses, two of which he applied to his MScA degree after being accepted.
A Supportive Community
Still a student in the MScA program, Tam has already leveraged his new skills to land a data analyst position at one of the largest grocery chain retail groups in the country. When he looks back on GSAL now, he recalls the people he met and the welcoming community he joined.
"Every week we'd have a happy hour session on Zoom that would function as a networking event," he says. For Tam, who joined the program at the start of the pandemic, these personal ties felt particularly significant. "It was a venue for everyone to express what was happening in their lives, and everyone offered everyone else support and showed empathy." 
This encouragement, Tam says, helped him make the transition he wanted. "GSAL students are at all points in their careers and pursuing all sorts of educational directions," he says. "I felt welcomed because everyone's there for the same reason, even if we're not all pursuing the same thing. Without the support of GSAL and the connections I made while there, I would definitely not be in the position I am today."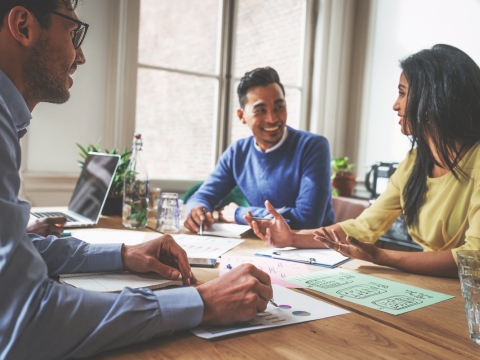 Build a Bridge to Your Future
Explore fields of academic study and preview graduate and undergraduate level courses by taking for-credit classes at the University of Chicago.
Apply Today