Graduate Student-at-Large
Frequently Asked Questions
What's the difference between the Graduate Student-at-Large and Returning Scholar programs?
GSAL students may take courses for credit, earn a letter grade for each course taken, and receive a transcript. Returning Scholars may audit courses and get transcripts but do not receive academic credits or grades. 
GSAL students are charged Student Life Fees, while Returning Scholars are not.
GSAL students may elect to receive USHIP Health Insurance or may waive it with comparable coverage. Returning Scholars are able to opt into USHIP Health Insurance.
Do GSAL students take courses with full-time and part-time University of Chicago students?
Yes. GSAL students take courses with both full- and part-time College, Master's, and PhD students at the University of Chicago and are held to the same rigorous academic standards.
Will I get a degree from this program?
No, the Graduate Student-at-Large program is a non-degree program. You will receive an official University of Chicago transcript, which lists the courses you have taken.
As a Graduate Student-at-Large, will I be taking courses with other continuing studies students? Which courses are open to me?
GSAL students take regular university courses, not continuing studies courses.
You are able to take all available graduate, undergraduate, or professional school courses (except in the Pritzker School of Medicine) for which you have the prerequisites. In order to take any course, you must follow a particular department's registration policy and obtain approval. Undergraduate courses require advance consent from their instructor.
Is there any way to meet fellow GSAL students?
The GSAL team hosts weekly happy hours to make sure GSAL/B/RS students have regular options to meet and connect with their academic colleagues. GSAL also hosts an annual seminar on exploring graduate school so students can learn about different fields of study and how to craft a successful graduate school application from program directors and admissions personnel. Additionally, quarterly workshops, mixers, and other social events enable GSAL students to build community and learn about campus-wide resources.
I plan to apply to a graduate degree program at the University of Chicago. Will these classes transfer? How many classes will transfer?
The University of Chicago degree programs will generally accept up to three classes to transfer. This varies by program and school, so we suggest that you contact the department's graduate studies advisor for specific details.
As a GSAL student, will I have access to the libraries and athletic facilities?
Yes. You will have access to a variety of student services and facilities for each quarter that you are enrolled in classes. GSAL students can access campus libraries and have borrowing privileges with their UCID card.
Will I have an academic and graduate school advisor?
Yes. The Associate Director and her team of advisors are experienced in academic student success and will work with you to explore suitable courses, meet and converse with faculty, conduct research and student engagement activities, help with graduate school applications (including seeking faculty for letters of recommendation), and help you manage your work-life balance.
Where are classes held?
Most courses are offered on the main Hyde Park campus with the exception of a few programs which are offered online or located in downtown Chicago at either the Gleacher Center or NBC Tower.
Are COVID-19 vaccinations required to return to campus?
The University announced that it will no longer require students to be fully vaccinated for COVID-19 to be on campus. The most up-to-date information about returning to campus may be found on the GoForward website.
I am working during the day, can I take evening classes?
The vast majority of classes are offered during the day; very few are offered in the evenings.
Are international students allowed to apply to GSAL?
Yes, international students are allowed to apply to GSAL. International students are admitted on J1 student visa status and have to be enrolled in 300 credits (typically three courses) every quarter. Students may decide to apply for one, two, or three quarters of study at the time of admission. Once here, students may extend the duration of their study but must be registered as full-time students at all times to maintain their J1 visa.
Do you accept international transcripts?
Yes. International transcripts must be submitted in English. If your transcripts are in another language, you will need to provide an English translation.
I am an international student. What should I know about living in Hyde Park and student housing options?
GSAL students needing living accommodation within Hyde Park, whether single room or shared apartment style, should peruse our resource guide. To experience a global, hostel-style living environment in Hyde Park, consider International House. Additionally, GSAL advisors are happy to assist you in finding the best possible accommodation in Hyde Park.
Do I need to take the TOEFL or IELTS?
Applicants to the graduate schools and divisions of the University of Chicago who do not meet the University's waiver criteria must submit proof of English language proficiency. The requirement may be waived English has been a primary language of communication and schooling for you since childhood; or you were enrolled for at least one academic year in full-time status in a course of study at an accredited English-medium post-secondary institution in one of the following countries or territories within the past ten years: Antigua and Barbuda, Australia, Bahamas, Barbados, Canada, Dominica, Grenada, Guyana, Hong Kong, Ireland, Jamaica, New Zealand, Saint Kitts and Nevis, Saint Lucia, Saint Vincent and the Grenadines, Singapore, South Africa, Trinidad and Tobago, the United Kingdom, the United States.
What academic credentials must I already have in order to apply for the GSAL Program?
All applicants must have a bachelor's degree from an accredited university with a minimum GPA of 3.0. For some international applicants, a TOEFL score of 106 is required.
Do you require GRE or GMAT scores?
No.
How competitive is the GSAL program?
Applicants who do not meet the minimum requirements and are unable to work with the GSAL Associate Director to find satisfactory provisional admission plans will not be granted admission to the program.
My undergraduate performance wasn't as strong as it could have been, but I've been building a good professional track record. Should I apply?
Yes, you should definitely apply. We look at each application holistically so we can best gauge each applicant's probability of success. We invite students to interview so you can contextualize your undergraduate performance and make a cohesive plan with the Associate Director about the next steps in your academic journey.
What is the admissions process like?
Applicants may apply online during all four quarters of the academic year. Those who meet the minimum admissions requirements are invited for an in-person or telephone interview with the Associate Director or members of her admissions team, giving applicants the opportunity to ask questions and solidify their objectives for participating in the GSAL program.
When will I find out if I'm admitted?
Students will be notified during the interview whether they are admitted or denied.
How many courses can I take per quarter?
Domestic students can take up to two courses per quarter. In exceptional cases, students may register for three courses per quarter with the approval of the program director. Students who wish to take more than two courses in a single school or department must receive departmental approval prior to registration. International students must be registered for 300 credits every quarter (usually three courses) to be in full-time status, which is a requirement for the J1 visa.
Once I apply, am I obligated to take a class this quarter?
No. If you decide to take a class in a subsequent quarter, please contact our office three weeks prior to the quarter start date. International students on J1 visas are obligated to complete their studies or must contact the Associate Director and Dean of Students for assistance if they are unable to continue their studies.
Must I pass all my courses? What happens if I fail one?
GSAL students must always be in good academic standing and two C-grades will result in academic probation. Students on academic probation must work closely with the Associate Director and/or the Dean of Students to improve their grades. Continued failure to improve will result in non-enrollment and possible termination from the GSAL program.
I want to apply to medical school and need one or two biology and chemistry classes that I didn't take in college. Can I take these as a GSAL student?
Yes. However, undergraduate students have priority for undergraduate courses, so you will need to plan carefully to make sure that the courses you need will be available to you. You will also need instructor consent to register for undergraduate courses.
I was accepted last year to GSAL, but never took a class. Do I need to reapply to take a class this quarter?
No. If fewer than four quarters have passed since you were accepted or last took a course, simply contact the office three weeks prior to the quarter start date to renew your status. After four quarters without registering for a class, we require an updated candidate statement and resume for your status to be reinstated.
Are federal student loans or financial aid available to GSAL students?
No. Federal programs release funds only for students enrolled in degree programs. However, the Student Loan Administration office can assist GSAL students in securing alternative loans.
Are GSAL students eligible for work-study programs?
No. Work-study programs are a form of federal aid, and as such only students enrolled in degree programs are able to participate. GSAL students who are enrolled in classes can apply for regular student employment (not work-study) on campus.
Hear From Program Director Esther Pandian-Riske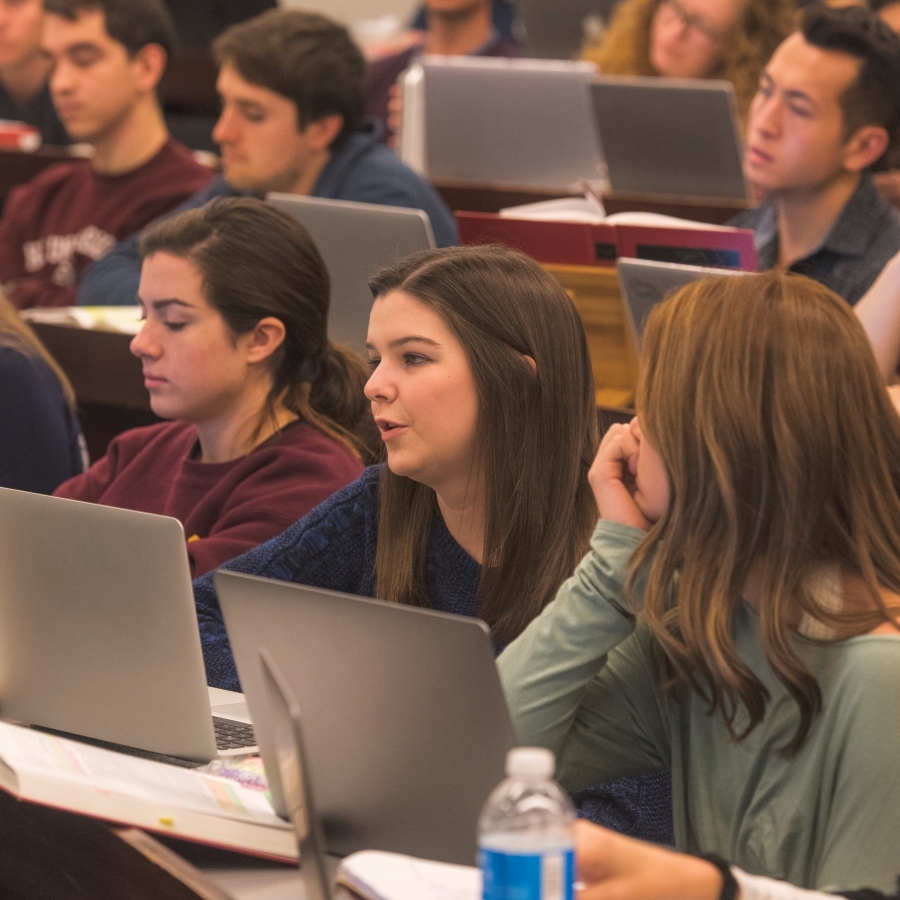 Have Questions About the GSAL Admissions Process?
Contact our admissions team to ask questions about the GSAL application process.
Get In Touch