At a Glance
Type

Professional Education

Enrollment

Open Enrollment

Duration

Eight weeks

Open Enrollment

Format

Online

Cost
Develop an understanding of healthcare and technology from a global perspective.
The eight-week Healthcare Informatics program focuses on the key issues driving healthcare informatics, a practice that requires cutting-edge knowledge. The program is designed to teach you to identify the skills needed within a health informatics team and understand the issue of healthcare and technology from a global perspective.
Designed For
Designed for leaders and professionals in healthcare informatics who could benefit by gaining a global perspective on the state of the sector. It is also designed for professionals with less experience in the healthcare sector who are interested in delving into the world of biomedical informatics.
Learning Objectives
COVID-19 is shining a spotlight on the healthcare sector. When you consider the state of healthcare on a global scale, it has never been more useful to know how best to manage patients' health data. Our program will help you understand the latest technologies, tools, and industry best practices to improve patient outcomes and make use of available information technology, allowing practitioners to better analyze and understand patients' health records.
After completing the program, you will be able to:
Articulate the roles and skills relevant to the subdomains of biomedical informatics and the evolution of the discipline. 
Investigate the dynamics and challenges of the global healthcare ecosystem and the different points of interaction for patients.
Examine the role of electronic health record data and system interoperability in improving patient health through clinical  decision support. 
Identify how genomics technology and data science techniques support personalized medicine to improve patient health. 
Propose a set of guiding principles drawing on the ethical and legal frameworks that shape the healthcare sector today.
Our expert instructor directs the International Neuroblastoma Risk Group Database project, which connects international patient data with external information such as genomic data and tissue availability. The center provides computational support for the Biological Sciences Division at the University of Chicago, including high-performance computing, applications development, bioinformatics, and access to the clinical research data warehouse.
Remote Learning Structure
Eight weeks in length
Weekly, self-paced interactive learning modules and assignments are time-sensitive and should be completed by the set deadlines
Synchronous sessions and live question and answer sessions 
Mentors to provide continuous support and encourage a dynamic and positive learning environment
Program Objectives
Our curriculum is designed to teach you to:
Articulate the roles and skills relevant to the subdomains of biomedical informatics and the evolution of the discipline
Investigate the dynamics and challenges of the global healthcare ecosystem and the different points of interaction for patients
Examine the role of electronic health record data and system interoperability in improving patient health through clinical decision support
Identify how genomics technology and data science techniques support personalized medicine to improve a patient's health
Propose a set of guiding principles drawing on the ethical and legal frameworks that shape the healthcare sector today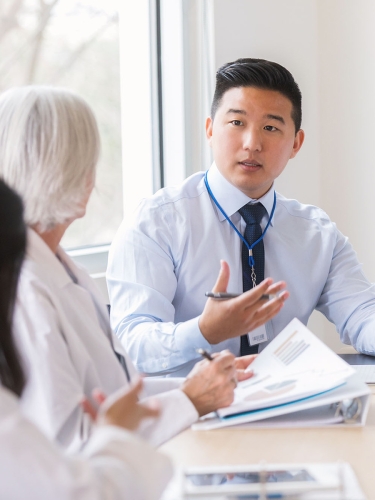 Healthcare
Rapid changes in medicine and biotechnology are creating a new understanding of pathology, health, and well-being. Our programs teach you how to apply the right tools and techniques to improve clinical outcomes and effectively shape (collective health.)
Learn more about Healthcare