International Students Now Eligible to Test UChicago Booth MBA Courses Through Graduate Student-at-Large Business Program
Are you an international student looking to explore MBA courses at the University of Chicago Booth School of Business? The Graduate Student At-Large Business (GSALB) program is inviting a select group of self-motivated international students to take full-time (300 credits, three courses) academic training for one academic quarter, starting Winter 2023 at Chicago Booth.
GSALB International results in a transcript (with grades) from the University of Chicago, opportunities to learn from top Booth faculty and network with MBA students, and the ability to use the experience toward future MBA applications, at Chicago Booth or beyond. (Up to three Booth classes can be transferred into the MBA curriculum at Booth, if you are granted successful admission into the MBA program).
As a GSALB International student, you will hold a J-1 student visa for one quarter and will be enrolled in full-time studies at Chicago Booth. Seats in Booth courses will not be reserved for international students and are processed on a first-come, first-served basis. Foundational courses (Microeconomics, Financial Accounting, and Business Statistics) typically have seats available each quarter. You can review the seat availability chart for these courses online.
A maximum of three business courses may be applied toward the MBA degree if and when you apply and are granted admission into Booth MBA program. Please note, the Full-Time MBA program offers F-1 visas, but the Evening MBA and Weekend MBA program does not. Students wishing to attend the Evening MBA and Weekend MBA program must secure a work visa (H-1B) to come to the United States and study in those programs.
GSALB International students must comply with immunizations, health insurance regulations of the University, as well as with English Language proficiency of the University.
Total estimated cost of attendance for one quarter (without air travel and food) is: $29,981 USD
The application deadline for interested GSALB International applicants is October 31, 2022, for Winter Quarter 2023 start.
If there is a delay in visa processing, applicants will be deferred to Spring Quarter 2023 (course availability is similar to Winter 2023).
Please contact Esther Riske, Program Director of GSALB Program, for more information at: evpandia@uchicago.edu.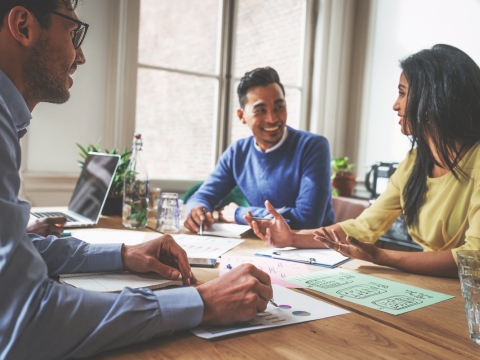 Test the MBA at Chicago Booth
Apply now to enroll in credit-bearing courses and explore the Chicago Booth School of Business before making a full commitment.
Start Your Application